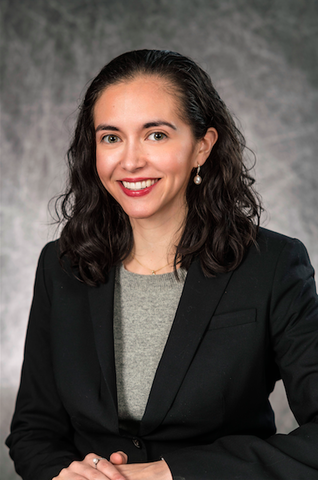 Contact Information
Department of Latina/Latino Studies
1207 W. Oregon Street
M/C 136
Research Interests
Media Studies
Latina/o Studies
Girlhood Studies
Gender and Sexuality Studies
Critical Ethnic Studies
Disney
Research Description
Diana Leon-Boys is a doctoral candidate at the University of Illinois at Urbana-Champaign's Institute of Communications Research. Her research is situated at the intersection of Media Studies, Latina/o Studies, and Girlhood Studies. She focuses on the representation of girls of color in a post-network digital era against the backdrop of contemporary post-feminism and neoliberal frameworks. Leon-Boys currently focuses on Disney's engagement with Latinidad.
Education
M.A. Communication, The University of New Mexico, 2013
B.A., Communication Studies, Southwestern University, 2010
Awards and Honors
2019-2020 Institute of Communications Research Block Grant Fellowship
2018-2019 Teacher Ranked as Excellent by their Students (with outstanding instructor ratings)
2015-2018 Illinois Distinguished Fellowship, University of Illinois Urbana-Champaign
2013 Outstanding Master's Student Award, University of New Mexico
Courses Taught
GWS 201: Race, Gender, and Power
LLS 387: Race, Gender, and the Body
MACS 101: Intro to the Media
Publications
 Leon-Boys, D. (In Press). Book Review of In Search of Belonging: Latinas, Media, and Citizenship by Jillian M. Báez. Feministas Unidas, INC.

Leon-Boys, D. (In Press). America's Favorite Doll?: Conflicting Discourses within the American Girl Collection. Book Review of Playing With America's Doll: A Cultural Analysis of the American Girl Collection, by Emilie Zaslow. Girlhood Studies: An Interdisciplinary Journal.

Leon-Boys, D. (2019). "Decentering Latinidad through Audience Constructions in Dexter." Latina/o Communication Studies: Theories, Methods, and Practice. Lanham, MD. : Lexington Books. 

Leon-Boys, D. &  Kristensen, M.S. (2018). "Race, Cyborgs, and the Pitfalls of Biopolitical Discourse in Black Mirror's "Men Against Fire."  Black Mirror and Critical Media Theory. Lanham, MD: Lexington Books. 

Johnson, J.R., Mary Gonzalez, Diana Leon, Sally Spalding , and Tiffany Brigham (2013). "Daring pedagogy: Dialoguing about intersectionality and social justice." Teaching, Learning, and Intresecting Identities in Higher Education. New York: Peter Lang Publishers, 2011. 179-200.