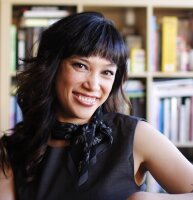 Contact Information
Department of Latina/Latino Studies
1207 W. Oregon Street
M/C 136
Biography
Lisa Cacho's scholarship interrogates the ways in which human value is both ascribed and denied relationally along racial, gendered, sexual, national, and spatial lines.
Research Interests
comparative race and ethnic studies
criminalization and immigration
women of color feminism and queer of color critique
Research Description
Lisa Cacho's work demonstrates how race, gender, sexuality, class, nation, and legality work interdependently to assign human value and to render relations of inequality normative, natural, and obvious in both dominant and oppositional discourses. To understand how the rhetoric and discourse of value are both institutionalized and popularized to devastating effect, she analyzes a range of sources, such as ballot measures ascribing "illegality" to persons, legal provisions targeting "criminal aliens," court documents evaluating degrees of "guilt," and related media accounts that manage and make sense of racial contradictions. Her book, Social Death: Racialized Rightlessness and the Criminalization of the Unprotected (NYU press, 2012) examines the ways in which representations of race and race relations mediate how we affectively and intellectually apprehend criminal justice and civil/human rights.
Education
Ethnic Studies, Ph.D., University of California at San Diego
Ethnic Studies, MA, University of California at San Diego
Ethnic Studies, BA, University of California at San Diego
Literature/Writing , BA, University of California at San Diego

Awards and Honors
John Hope Franklin Award for Best Book in American Studies, 2013
Outstanding Asian American Faculty/Staff Award, 2010
Department of Latina/Latino Studies Award for Teaching Excellence, 2011
Courses Taught
Introduction to Asian American Studies (AAS 100)
Theory and Methods in LLS (LLS 385)
Introduction to Latina/Latino Studies (LLS 100)
U.S. Citizenship Comparatively (AAS 215, AIS 295, AFRO 215, LLS 215, GWS 215)
Race, Sex, "Deviance" (LLS 465, AAS 465, AFRO 465, GWS 465)
Additional Campus Affiliations
Associate Professor, Asian American Studies
Associate Professor, Unit for Criticism and Interpretive Theory
Associate Professor, English
Associate Professor, Gender and Women's Studies

External Links
Highlighted Publications
Cacho, L. M. (2012). Social death: Racialized rightlessness and the criminalization of the unprotected. New York University Press. https://muse.jhu.edu/book/19449
Recent Publications
Cacho, L. M. (2018). Civil Rights, Commerce, and US Colonialism. Social Text, 36(2 (135)), 63–82. https://doi.org/10.1215/01642472-4362361
Cacho, L. M. (2014). The Presumption of White Innocence. American Quarterly, 66(4), 1085-1090. https://doi.org/10.1353/aq.2014.0078
Molina, I., & Cacho, L. M. (2014). Historically mapping contemporary intersectional feminist media studies. In C. Carter, L. Steiner, & L. McLaughlin (Eds.), The Routledge companion to media and gender (pp. 71-80). (Routledge Media and Cultural Studies Companions). Routledge. https://doi.org/10.4324/9780203066911.ch6
Molina-Guzmán, I., & Cacho, L. M. (2013). Historically mapping contemporary intersectional feminist media studies. In The Routledge Companion to Media & Gender (pp. 71-80). Taylor and Francis. https://doi.org/10.4324/9780203066911-13
Cacho, L. M. (2012). Gang members, juvenile delinquents, and direct democracy. In J. J. Betancur, & C. Herring (Eds.), Reinventing Race, Reinventing Racism (pp. 259-269). (Studies in Critical Social Sciences; Vol. 50). Brill. https://doi.org/10.1163/9789004231559_014