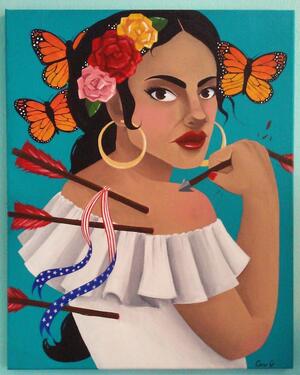 Examines literary productions by and about women of Mexican, Puerto Rican, Cuban, and other Latina/o descent in the United States. Taught in English. Prerequisite: At least one previous course in U.S. Latina/Latino Studies or Gender and Women's Studies, or consent of instructor.
      Tuesday & Thursday 12:30-1:50
      Instructor: Jose de la Garza Valenzuela
      Same as GWS 445 and SPAN 442
image: Cristal Gutierrez, Instagram: @cristalgutierrezart https://www.instagram.com/p/BXEyYkJjm7d/?utm_source=ig_embed.