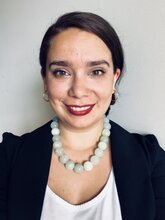 Research Description
Natalie Lira is an interdisciplinary scholar who examines the politics of reproduction and histories of medicine in the United States. She earned her Ph.D. in American Culture from the University of Michigan. Her research interests include the politics of reproduction, histories of medicine, and the ways that struggles for racial and reproductive justice intersect.
In her new book, Laboratory of Deficiency: Sterilization and Confinement in California, 1910-1950s, Dr. Lira combines insights and analytical frameworks from Latinx Studies, Disability Studies, and feminist scholarship on reproduction to examine Mexican-origin people's experiences of eugenic sterilization and institutionalization in California during the first half of the 20th century. Analyzing a vast archive, Dr. Lira reveals how political concerns over Mexican immigration—particularly ideas about the low intelligence, deviant sexuality, and inherent criminality of the "Mexican race"—shaped decisions regarding Mexican-origin youth's treatment and reproductive future. Laboratory of Deficiency documents how Mexican-origin people sought out creative resistance to institutional control and offers insight into how race, disability, and social deviance have been called upon to justify certain individuals' confinement and reproductive constraint in the name of public health and progress.  
Dr. Lira is also the co-director of the Sterilization and Social Justice Lab (SSJL). This multi-institutional interdisciplinary research team studies the history of eugenic sterilization in the United States. Funded in part by a grant from the National Institutes of Health, the SSJL team uses mixed methods from the social sciences, humanities, and public health to explore patterns and experiences of eugenic sterilization in California, Iowa, North Carolina, Michigan, and Utah. 
Research Interests
Latinx Studies & Ethnic Studies
Reproductive Justice
Disability Studies
Histories of Medicine and Public Health
Research Description
Isabel Molina-Guzmán's research examines the relationship between ethnoracial, gender, sexual identity and media discourses in the reproduction of inequality.  She is author of Dangerous Curves: Latina Bodies in the Media (NYU Press, 2010) and Latinas and Latinos on Television: Colorblind Comedy in the Postracial Network Era (University of Arizona Press, 2018). Her works have appeared in numerous edited collected and academic journals such as Latino Studies, Journalism, Popular Communication, Critical Studies in Media and Communication.
Research Interests
ethnoracial identity
gender/sexuality
media/journalism studies
discourse analysis